So there's this popular idea of making BBQ Pulled Pork with root beer that's been floating around the Internet recently. I loved pulled pork and I love root beer and I could see how the combo could work, so I decided that this was something I would have to try. Dylan also loves pulled pork, so I wanted to see if I could make one of his favorite BBQ recipes at home. It turned out great! But, lemme give you the recipe and then I can rave about how good it was.
Ingredients
1 (2 pound) pork tenderloin

1 (12 fluid ounce) can or bottle root beer

1 (18 ounce) bottle your favorite barbecue sauce

8 hamburger buns, split and lightly toasted
Directions
Place the pork tenderloin in a slow cooker; pour the root beer over the meat. Cover and cook on low until well cooked and the pork shreds easily, 6 to 7 hours. Note: the actual length of time may vary according to individual slow cooker. Drain well. Stir in barbecue sauce. Serve over hamburger buns.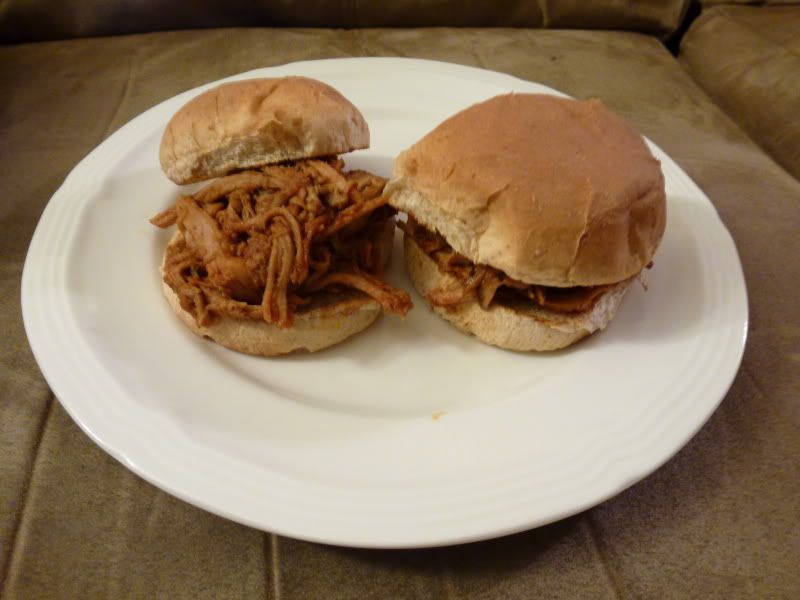 My Take
The smell of it while it was cooking was a bit....weird, so at first I was really worried if it was going to turn out right. I've never made pulled pork before, so this was all new to me. But it turned out fabulous! I did change the recipe a little bit.
First, before I put the tenderloin in the slow cooker, I rubbed it with a little bit of salt, pepper, and garlic salt, just to add a bit of flavor to it. Then, I poked a few holes in it with a fork, just to make sure the juices could get in there and do their magic.
Then I cooked it for 5 hours, took it out and drained the root beer. I proceeded to shred the pork, mix it in with some BBQ sauce (didn't use a whole bottle, just did it by sight) and then cooked it for another hour, to get the sauce nice and absorbed into the meat.
Now, if I had to do it over again, I think I might use a different cut of meat, like a shoulder cut, as it would give me more meat for cheaper. Also, I used Famous Dave's BBQ sauce, but I think next time, since I cooked it with root beer, I might have to try it with the A&W BBQ sauce, just to keep the root beer flavor more intact.
This was totally a winner in my house, and it was very easy to make, so I'm totally going to have to make this again.
Lemme know if you try it and how it turned out for you! I love to hear from you, my loyal readers. Also, let me know if there's something you've heard me talk about that you would want the recipe for. I tend to do my posts around food that I've cooked in the past week or so.
Anywho, that's all I have for now. Dunno what'll be up next. We'll just have to see. :)