This year for Easter, I decided that I wanted to make some kind of dessert, but I didn't want to do something huge and difficult, but I wanted it to look "springy".That's when I came across these cute little cupcakes. They were yummy looking, and they didn't seem too hard to make. I was a little bit curious as to how they would taste.
Ingredients
1 package (2-layer size) white cake mix
1/4 cup dry lemon Jell-o (about half a package)
1/4 cup dry lime Jell-o
1/4 cup dry strawberry Jell-o
1 container (16 oz) ready to spread vanilla frosting
Directions
Prepare cake batter as directed on package; divide evenly into 3 bowls.

Stir different flavor dry gelatin mix into batter in each bowl. Alternately spoon batters into 24 paper-lined muffin cups, adding about 2 Tbsp. of each batter to each cup. Bake as directed on package for cupcakes. Cool completely.

Frost cupcakes with frosting.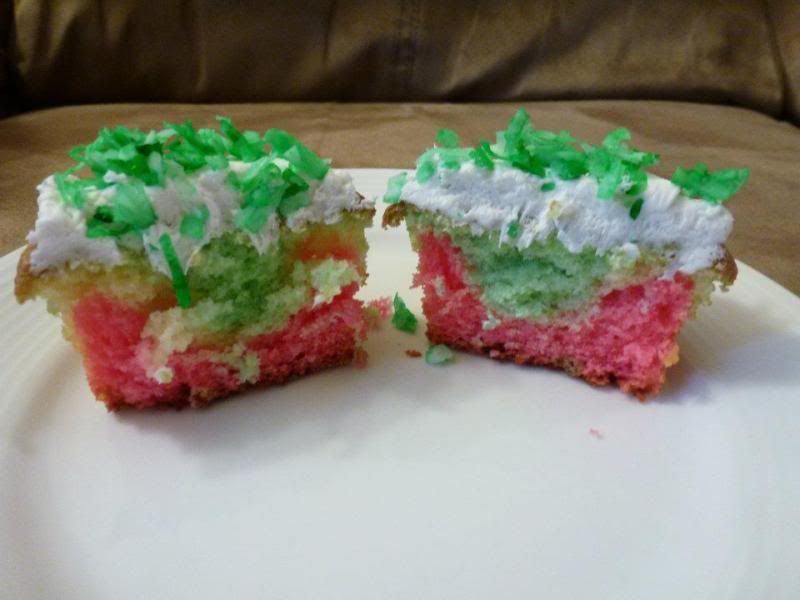 Do you know how hard it is to cut a cupcake
to make it look pretty?
My Take
These turned out even better than I expected. The flavors went really well together, although the lime seemed to overwhelm the other flavors. I put whipped vanilla frosting on top and dyed some coconut flakes green to make it look like grass. Yay for simple decorations!
I will definitely make these again in the future. I'm kind of curious to try other flavors, such as a triple berry with strawberry, rapsberry, and that blue one. One other variation they say to do is to top the cupcakes with Cool Whip and sprinkle the remaining Jell-o. I'm going to have to try that one sometime as well.
So, lemme know if you try this, or if you try it with other flavors. Feel free to leave a comment! :)